I talk to Jeff from Project Spurs quite a bit. We tend to talk about anything and everything but we decided that, all season long, we're going to talk about the rivalry of our respective favorite teams. Y'all know who we cheer for: Jeff cheers for the Spurs and I cheer for the Lakers. Every few weeks or so, we're going to talk about how our teams are doing and our conversations can be alternately seen here at The No-Look Pass and at Project Spurs. Here's our first conversation. We'll talk again about our teams before the regular season starts and you'll see that on Project Spurs.
JEFF: Rey, I know your Lakers team are the reigning champions of the NBA and L.A. is the clear favorite but Lakers fans are forgetting about one team....the Spurs.
REY: As a Laker fan, I'm thrilled that the Lakers ARE loaded. But like... about five other teams are loaded. One of them being the Spurs. And this is why I don't really hang with too many Laker fans; they're delusional. They don't think there's any other team in the league. It's like... they're already crowning them. Championship games are played in June. I'm sure you know a little bit about that.
JEFF: I'm a huge Star Wars fan and the way Laker fans are acting remind me of Luke Skywalker in Episode 4 when he shoots down one enemy ship, turns to yell "I got him! I got him!" Well, Lakers fans allow me to be the Han Solo, "Great, kid, but don't get cocky." And cocky the Lakers fans are acting. Did they forget there are other teams in the west? But the Spurs are the Number 1 threat to the Lakers. Laker fans can't be blind to that fact.
REY: Let's see. Dallas has improved. Portland is more experienced. New Orleans might surprise teams again. Phoenix COULD be back. Utah is going to get healthy. And, of course, them Spurs are loaded. Although I still say that the Lakers are favorites but they're only slight favorites to me.
JEFF: I will admit LA has a superior front court. Aside from TD and RJ not much left to contend with Odom, Bynum, Gasol. But need I remind you, Spurs have the advantage in the backcourt with Parker, Manu, and even Hill. And, yes, you did get Artest.
REY: Yeah, Phil is thinking of tinkering with a backcourt of Artest and Kobe.
JEFF: But who does Phil go to to cover RJ?
REY: Yeah, not sure if Odom can come in and do that.
JEFF: Even if Phil switches Artest on RJ, that leaves a defensive weakness for LA in the backcourt
REY: Yeah, I mean... Derek Fisher is like 77 years old. And Jordan Farmar can't even spell defense. Shannon Brown might put in some nice minutes, though...
JEFF: I am not here to believe SA will sweep the season series or even sweep LA in a 7 game playoff series. What I am here to do is to remind LA fans that they are sleeping big time on SA.
REY: I think it'll be a fight. I won't be surprised if San Antonio wins the West. Sure, the Spurs don't have the length but they can probably outhustle and outmuscle the L.A. frontcourt.
JEFF: In essence, LA is in for a fight no a war w/ SA.
REY: It's too early to tell, obviously. But I like those two teams going to the West Finals. And, by the way, I don't wanna piss off Denver fans by not mentioning the Nuggets...
JEFF: Think about it, two of the best NBA coaches, Pop and Phil going at it and you think they won't have their respective teams geared up?
REY: I really hope the Spurs stay healthy throughout.
JEFF: Same for LA. Farmar and Bynum were injured. And just like the Spurs with TP, LA has to monitor Pau's minutes since he played in the summer for Spain. LA fans, you are getting cocky.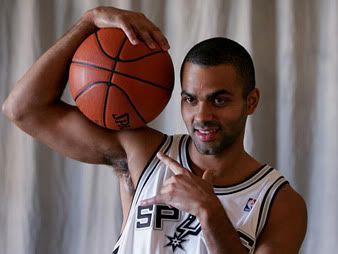 REY: You're right. It's going to be a war. I can't imagine why Laker fans are ignoring the Spurs. Hill, Ginobili, Finley, Bonner, and Ratliff? Not exactly a sparkling line-up but these guys can get it done off the bench. That's just the BENCH.
JEFF: Your team was taken to a 7-game series with a depleted Rockets team. Now imagine a healthy Spurs team.
REY: I haven't even talked about Keith Bogans and Dejuan Blair. I sure hope L.A. stays focused.
JEFF: A healthy, younger Spurs team
REY: Yeah, hopefully, L.A. plays basketball, not roles in a reality TV show.
JEFF: The variable in all this SA v LA talk are the Nuggets. LA or SA will have to deal with them in the playoffs.
REY: Yeah, one of them will. But who knows? The West is loaded. You guys better not sleep on the Mavericks. They beat your Spurs in the first round last year. Just like you predicted!
JEFF: A depleted Spurs team. But then again i have an issue with this whole "Manu hurt" excuse Spurs fan throw out.
REY: You STILL want him out, do you?
JEFF: If the Rockets can show heart and passion to deal with a powerful LA team at half strength then why can't the Spurs do the same when Manu is hurt. Ok I will get off my soap box and refocus on the LA Kardashians errrr I mean Lakers
REY: Yeah, but answer the previous question. You still want Manu out. If that trade happens, who do you want in return?
JEFF: Draft picks... a legit center. And a Kardashian.
REY: You have a hard-on for Marcus Camby.
JEFF: Camby, Pryzbilla, hell even Pachulia.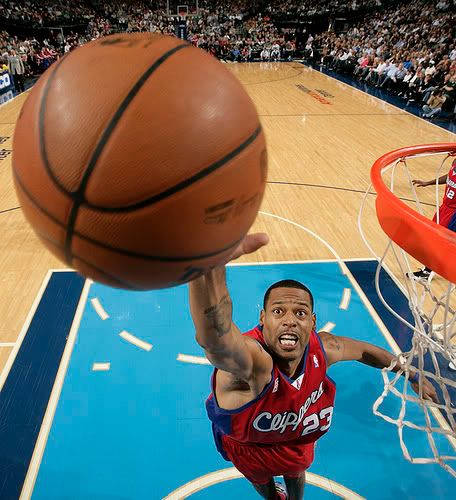 REY: What do you think of Khloe Kardashian? Yay or nay?
JEFF: NAY! What's wrong with you?
REY: Hey, I don't know! Some of 'em like them Kardashians!
JEFF: I would even take the mom.
REY: I have NEVER seen their mom. Do you watch that show?
JEFF: Milf to the max.
REY: I'll take your word for it.
REY: Right now, do you believe that the Spurs can win the title?
JEFF: Yes. I believe the Spurs can win the title. They reloaded at the SF position, did something at the 5 spot, and added key pieces to contend with LA and even Denver. My concern is if SA does make it to the Finals, how beaten up will they be after having to survive a war with LA should they meet?
REY: Yeah, but wouldn't the East team be beat up, too?
JEFF: Not for all 4 rounds for the upper-tier teams. Cavs, Celts, and Magic don't have to deal with teams that West teams have to deal with at seeds 3-8. Come on! Hawks? Wiz? Raps? 76ers? Please. Try taking on teams like the Blazers, Jazz, Mavs, Suns, Hornets...
REY: You've got a point there. East teams only need to win 35 to make it to the postseason while West teams have to win, at least, 47.
JEFF: LA and SA will have their hands full but when these two teams meet, expect games you wish will last 8 quarters or playoff series being best-of-15.
REY: So since you seem to be a lot more confident about your Spurs this year, will we see less Twitter meltdowns this season?
JEFF: Consider me a Spurs gauge for Spurs fans on Twitter. If I am having less meltdowns on twitter then Spurs fans should be happy. Other way around and, well, expect some classic meltdowns.
REY: Are you going to be like Glenn (from the Dugout Sports Show) and predict 70 for the Spurs like he did with his Cavs? Just like how Laker fans are SERIOUSLY predicting 73-9 for this season?
JEFF: Wait! What? 73. Please say you are kidding.
REY: This is what I have to put up with here in L.A. That's what it takes to break the Bulls' record.
JEFF: Expect Spurs to get between 58-61 wins. With this team they should easily handle lesser teams in the NBA.
REY: I'll say the Lakers get around 62... maybe 65. But it won't be a cakewalk this year. Of course, I want them to win the title but I won't be surprised if OTHER teams won it.
JEFF: Who would you rather see take the title? SA or the Celts?
REY: Ugh. That's like saying what would I rather eat. Vomit or feces?
Follow me on Twitter. I am @TheNoLookPass. You can follow Jeff also at @sa2ny2004. While you're at it, visit him and his comrades at Project Spurs.
We're always up late. How about buying us a coffee? Or an energy drink!?