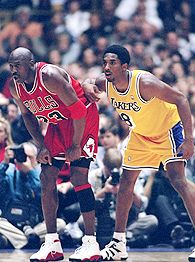 The Jordan Vs Kobe debate will rage on for a long, long time.
I would still take Jordan in that match-up. A lot of us have said that Kobe copies Jordan's mannerisms quite a bit when it comes to style of play, celebrations, swagger, etc. It is a bit unfair, too, because I do want to see how Kobe would do against physical teams that we'll never see again (i.e. Detroit Piston bad boys) because of the NBA rules. Bryant did put on quite a show against Oklahoma City last night. But to those Kobe fans out there, what does Kobe do better than Michael?
Michael Jordan was quite the physical dominance back then. Early in his career, he'd dunk over anyone and everyone. His jumper was once considered a weakness but, obviously, he turned that into strength as he got older.
I see two things that Kobe has over Michael. Kobe's always had the outside shot. He has unlimited range. Maybe because it's a different game now since the NBA relies on the 3-point shot more than ever but Jordan didn't shoot that many 3's until later in his career. But even then, Jordan was only considered a fair 3-point shooter (Jordan's a career 33 percent 3-pt shooter but he only shot almost two per game while Kobe's 34 percent attempting almost 4 per game). Also, don't forget that Kobe made 12 3-pointers in a game early in his career, which is still a record in the NBA.
Another thing that I noticed is Kobe's use of his left hand. All great players can use both hands but even I remember Michael admitting that Scottie Pippen had a better left hand than he did. Bryant has worked on that aspect of his game and would even throw up shots with his left hand from the midrange. Of course, I've seen Michael use that left hand but I've only seen him use it on lay-ins (I've only seen Michael dunk with his left hand once) but I have seen Kobe do a variety of shots with his left hand. So I give Kobe the edge on that.
We can go on and on and on about this debate but I just wanted to point out a couple of things I see that Kobe has over Michael. A lot of Kobe fans out there always say that Kobe is better than Michael but I never, ever see the reasons why. But while this debate will go on forever, one thing's for sure: I'm just glad that I get to watch two of the greatest players the NBA has ever had.
Follow me on Twitter. I am @TheNoLookPass. Also, join our FaceBook page!
We're always up late. How about buying us a coffee? Or an energy drink!?