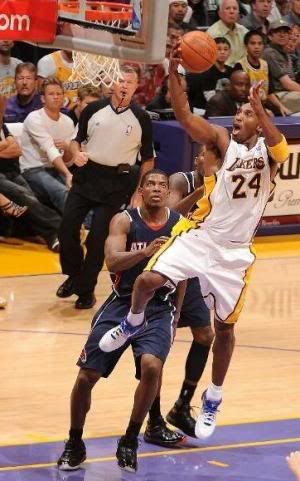 Waaaaaayyyyyyyyyyy earlier in the year, the L.A. Lakers beat the Atlanta Hawks, 118-110. The rematch happens tonight in the Highlight Factory. The stakes are much higher now than they were in the first week of the regular season. The Lakers are just kind of going through the motions despite winning 8 of their last 10. The Hawks are trying to claw into the Top 3 of the East as they have the same record as the Boston Celtics.
To help me preview the game, I asked Lang Whitaker. Mr. Whitaker (I wonder if he feels old when I call him that) is the executive editor of SLAM Magazine, appears on NBA TV's "The Beat" every Tuesday night (first airs at 6:30 P.M. Eastern), and writes a column for Hawks.Com. He also has a book (that will be published by Scribner) due out sometime next year, which is untitled as of now but it's a memoir about him growing up as an Atlanta Braves fan during the Bobby Cox era. So baseball fans, especially Braves fans, can look forward to that.
On a side note, Lang inadvertently introduced me to Buzzer Beat, that Japanese basketball drama last summer. We actually reviewed the first episode here. Uhh, anyway, yes. Lakers/Hawks.
Lang's answers are in a dark-reddish font.
Did you think all along that the acquisition of Jamal Crawford was going to pan out for Atlanta?
I think when that trade was first announced -- Acie Law and Speedy Claxton's contract for Jamal Crawford -- a lot of people were just confused by it. Like, how would Jamal fit in with the Hawks? He was basically a two-guard, but we didn't we already have Joe Johnson?
But as someone explained it to me just after the deal went public, when you have a chance to trade two guys who don't play for a guy who averages 20 points per game, you don't ask any questions, you just make the deal. Which the Hawks did.
And it's been awesome. Jamal's embraced that Sixth Man role and is basically a much better version of what Flip Murray was last season -- a combo guard who spells both Bibby and Joe Johnson.
Josh Smith has really had a great year. What do you attribute it to?
I've known Josh since he was in high school, and his athleticism has always been unparalleled; it was his basketball decision-making that got him in trouble. Even though he could jump out of the gym and block anything near the rim, Josh used to average one three-pointer a game, but now he's averaging one a MONTH, which is an incredible drop-off, and it's made him so much more effective and dangerous this season.
I did a story for SLAM a few months ago where I traveled with the Hawks for a weekend, and that morning at breakfast, Josh mentioned it was his birthday. I asked him how old he was and he said 24, which knocked me out of my chair -- he's still so young even though this is his sixth NBA season. So I guess we should've expected his improvement. The scary part is that he's going to get even better. He's also a great kid, who does a lot of great things for the community in Atlanta that don't often get reported on as much as they probably should. (Like this.) I'm so glad the Hawks locked Josh up long-term.
Joe Johnson is having another very good year but will he ever be considered more than a "second-tier" star?
Good question, and it's not for me to answer, it's for Joe. Part of the issue is attention, because most people have ignored Joe back when the Hawks were terrible. But now that they're a legit contender in the East and Joe's an All-Star starter, people are starting to notice how amazing he can be.
The other part of the issue is when Joe is going to step up his game. I think if he'd just force things a little bit more and drive more often than he does, he'd go to the line 5-6 more times a game and average 25+ ppg.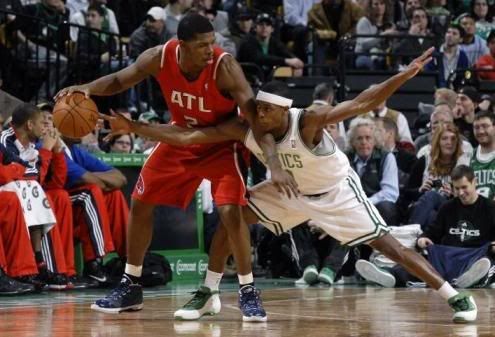 I can say this: Joe's the best player the Hawks have had since Dominique Wilkins. He's really, really good, and if the general public is going to sleep on him, that's fine by me. I just hope the Hawks are able to keep him going forward.
Do you consider the Hawks to be one of the elite in the East?
Yes. I think we're still one player from being on that level of being able to consistently beat Orlando and Cleveland, but right now we know we're better than Boston and we're probably going to finish third or, at worst, fourth (barring a horrible meltdown) in the East. So yeah, we're elite.
In the beginning of the year, the Hawks lost to the Lakers in their first regular-season match-up. What do the Hawks have to do differently in this game?
I did a podcast earlier today for ESPNlosangeles.com with my dudes, the Kamenetzky Brothers, and they brought up that game from earlier this year and reminded me that Artest just shut down Joe Johnson. That was actually the third game of the season(!), which seems like it was two decades ago. The Hawks actually played pretty well for the first half, but stunk it up in the third quarter.
The way I think Atlanta can take advantage of the Lakers tomorrow night is if they work hard to establish Al Horford down around the lane -- not really in the post, but on those 15-18 footers where he's become money this season. If they can get Al going, it should draw Gasol away from the rim and open things up for Josh.
(NOTE: Check out the Kamenetzky Brothers' podcast with Lang Whitaker right here.)
Any predictions for this game against the Lakers?
Hawks win, 101-94. Because if I'm right, I can link to this and say, "See, I told you!" And if I'm wrong, everyone will say I was just being a homer to begin with and forget about it.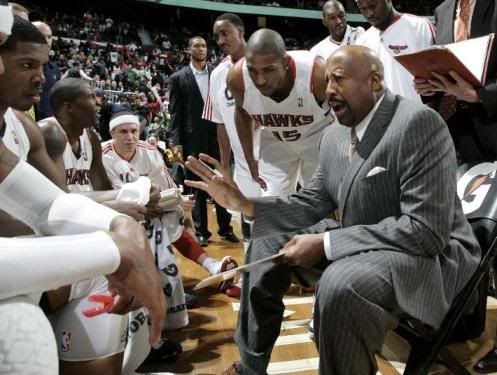 Thanks to Lang Whitaker for doing this Q&A. Again, check his work at SLAM Magazine, Hawks.Com, and watch him on The Beat at NBA TV every Tuesday night. You can also follow him on Twitter. His name is... @langwhitaker. Of course!
PHOTO CREDITS: 1) Andrew D. Bernstein/NBAE via Getty Images. 2 and 4) Scott Cunningham/NBAE via Getty Images. 3) Brian Babineau/NBAE via Getty Images.
Follow me on Twitter. My name is @TheNoLookPass. I think I might have watched a lot of Hawk games this season ever since I said they bored me early in the year.
And please... join our FaceBook page.
We're always up late. How about buying us a coffee? Or an energy drink!?