#1 LOS ANGELES LAKERS 109 @ #3 PHOENIX SUNS 118
(Lakers lead series, 2-1)
The Suns and the Lakers both got off to a torrid start. It was really back and forth the whole time. Kobe Bryant scored 15 points in the first quarter while Amar'e Stoudemire had 9 points. Andrew Bynum got into early foul trouble and that may have given the Suns confidence to play a little more of an inside game. Another adjustment for Phoenix? They went to a zone defense that baffled the Lakers offense for a little bit. The Suns finished with a 15-2 flourish to end the half.
The zone defense was busted a little bit when the Lakers made a few jumpers in the third. Derek Fisher, in particular, was killing it from the outside as he made 11 of his 18 points in the third quarter. Still, with Bynum and Lamar Odom (who didn't show up in this game) in foul trouble, the Suns continued to fearlessly go in the paint. Not only was Amar'e going in at will but Robin Lopez was making nifty moves to the basket. Besides Derek Fisher, Ron Artest and Kobe were keeping the Lakers in the game at the 3rd quarter.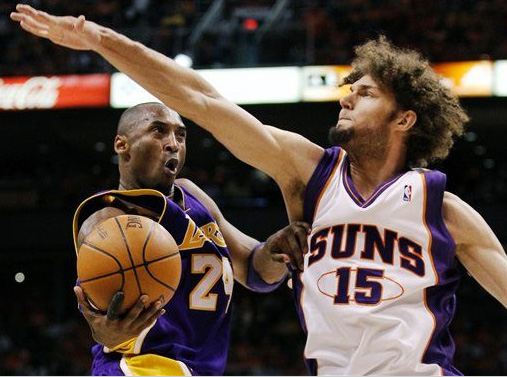 Suns lead by a slim margin, 86-84, after three. However, the outside shots stopped falling for the Lakers. And Amar'e Stoudemire, much like Pau Gasol couldn't be stopped by Amar'e in Game 2, couldn't be stopped by Gasol in Game 3. The Lakers' offense looked more baffled as the fourth went on and, eventually, the Lakers D was just overwhelmed by the tandem of Stoudemire and Lopez. And with the Suns playing more on the inside, Phoenix had a significant advantage from the stripe. Suns shot 42 freethrows compared to the Lakers' 20. While the Suns shot horribly from three (5/20), the Lakers fell in love with the shots behind the arc (9/32). Phoenix was just the more aggressive team tonight. It didn't help that the Lakers had 17 turnovers, compared to the Suns' 7. The series is definitely going back to Staples but I'm sure Phoenix wants to tie the series up first.
Kobe Bryant led the Lakers with 36 points (plus 11 assists) and Pau Gasol still had an outstanding offensive game (11/14 for 23 points). Fisher, as mentioned earlier, had 18 points. Amar'e Stoudemire had an incredible 42 points and 11 rebounds. Brook's twin brother had 20 points and Steve Nash finished with 17 points and 15 assists.
Game 4 should be another show.
PHOTO CREDITS: 1) Chris Carlson/AP.
Follow my NBA blurbs on Twitter. I am @TheNoLookPass. And check out our FaceBook page.
We're always up late. How about buying us a coffee? Or an energy drink!?