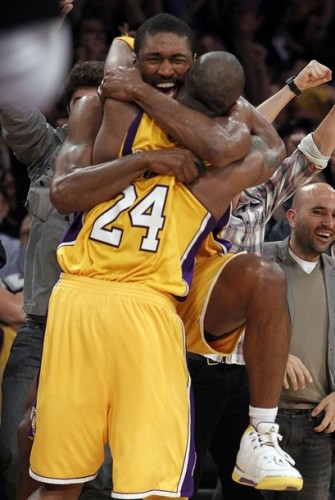 What a game.
#3 PHOENIX SUNS 101 @ #1 LOS ANGELES LAKERS 103
(Lakers lead series, 3-2)
Every second counts in a basketball game. When players and coaches say that "they have to play all 48 minutes in a game", they truly mean it. No better example than what happened in what was probably the most exciting game of the postseason so far. The Lakers truly escaped this one as a very game Phoenix Suns came close to bringing home a 3-2 lead back at the desert.
And in a 48-minute basketball game, there are plenty of chances to make up mistakes that had happened earlier. If one player misses a shot, they can take another one later to make up for it. If one player turns the ball over, he'll do better to finish the play and NOT turn it over. Basically, you keep playing. And this game was an example of getting second, third, fourth, fifth, eighteenth chances in this basketball contest.
It looked like the Lakers were on the way to another blowout. In the second quarter, Kobe Bryant snarled and made three straight shots from behind the arc that gave the Lakers an early 41-25 lead. The Laker starting backcourt was simply sizzling. L.A. also had a gameplan of making Steve Nash the Suns' primary scorer. He scored 15 points in the first half. Of course, if they're going to do that, make Nash really work for it. Oh, yeah. Derek Fisher was guarding him. Nash Vs Fisher was one hell of a defensive battle (gah, sarcasm doesn't translate very well on text). Fisher scored 13 points in the first half himself.
The Lakers extended their lead to 74-56 in the third quarter. The Phoenix bench was quiet in the first half but they blew up starting at the end of the third with a 16-4 run that closed the Suns within six. And I sure as hell enjoyed that faceoff between Sasha Vujacic (who finally got to play) and Goran Dragic. Put them in the UFC. Ultimate Flailing Championship.
The Suns put their starters back with five minutes left in the game... and hung around. The Lakers couldn't put the game away even after leading, 93-85, in the closing minutes. Nash made clutch shot after clutch shot and was able to get the Suns within 3, 101-98. Later on, Ron Artest missed a jumper. L.A. got the offensive rebound and passed it to a wide-open Artest. The shotclock barely started, Lakers had a 3-point lead and had a chance to play the clock (there were 56 seconds left at the time), and Ron shot the 3-ball, anyway. I heard the whole Staples Center groan from my place.
The Suns didn't capitalize, though. Then Pau Gasol missed a what-could-have-been a career signature play when he tried to jam on a couple of Suns players (dunk caromed off the back of the rim). In the ensuing possession, the Suns went for the tie and finally got it with a Jason Richardson banker.
We all knew the ball was going to Kobe. He missed a desperation shot but Ron was able to outmuscle Richardson and made the game-winning putback to give the Lakers that 103-101 victory and a 3-2 series lead. That was redemption to a tee. And, oh, how quickly we forgot that curious three by Ron.
A great highlight, of course, was Ron's interview with Craig Sager right after.
(Video by Jose3030.)
Gotta give Suns credit for playing their heart out, man. Everyone knows where my loyalties lie but I'm also rooting for Nash to get his championship ring. He's doing everything he can. Nash finished with 29 points and 11 assists. The Suns bench did a hell of a job in the second half. They scored 31 points overall in the game and were led by Channing Frye (14 points), who is officially back in the series. Also gotta give props to Alvin Gentry, coach of the Suns, who stuck the game out after a case of food poisoning (he even threw up at the sidelines). It was reportedly first to be a deep fried avocado that made Coach Gentry sick but TNLP's good friend and daughter of Mr. Gentry, Alexis Gentry (hello, TrashWire!), said it was really a fried artichoke. Hopefully, Coach Gentry feels better.
But the Lakers gutted it out themselves and refused to lose. Kobe finished with 30-11-9. Fisher came to play and finished with 22 points (he is really hitting his shots in this postseason). Pau Gasol was his usual, efficient self with 21 points and 9 rebounds and Lamar Odom seems to bring out his A-game when they need him the most (17 and 13).
And as I mentioned earlier, the players and coaches say that they have to play all 48 minutes. The Suns came back from an 18-point deficit. Ron Artest, even with boneheaded plays earlier in the game, made the game-winning shot. That's why I always believe that the game is not over until all the zeroes are on the clock. And the series isn't over yet, either, until one team wins four games. Suns aren't going to lay down and give L.A. Game 6.
Oh, yeah.
Queensbridge.
PHOTO CREDIT: Reuters Pictures.
Follow my NBA blurbs on Twitter. I am @TheNoLookPass. And check out our FaceBook page.
We're always up late. How about buying us a coffee? Or an energy drink!?