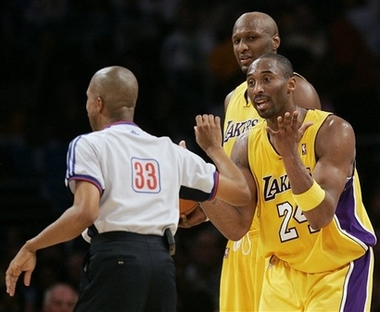 I'm not sure if David Stern is trying to turn his league into a robot league.
Once again, the NBA is going to attempt to crack down on the complaining and whining of the players. They tried this once in 2005 and I remember Kenny Smith and Charles Barkley mocking this rule by yelling "THAT'S A TECHNICAL!" on every highlight. The policing slowly disappeared and it was back to where it was once again.
I also remember the NBA when they said they would fine floppers during the 2008-09 season. Well, name me someone who was fined for flopping. Even if you did give me a name or two, that rule slowly disappeared, too... and everybody was back to falling on their backs even if no one made contact with them.
This second attempt at this rule will probably disappear before the Holidays.
Yeah, I get that they're more specific about the rules here. So let's go over these specific rules that the refs were told to call techs on.
*Players making aggressive gestures, such as air punches, anywhere on the court.
Sometimes, we get caught up on the moment and we throw an air punch whether it's a celebratory gesture or to show displeasure of a terrible call. It's an emotional game. So if a team takes a 1-point lead with one second left in the game and the player that makes the go-ahead bucket throws an air punch because it was such a big shot... does he get a technical?
*Demonstrative disagreement, such as when a player incredulously raises his hands, or smacks his own arm to demonstrate how he was fouled.
What's wrong with showing a referee on what happened out there? It's not like the referees are going to change the call, anyway, but some players can, at least, warn the refs for future calls on similar calls. But I do agree that technical fouls should be called on someone doing this in extreme anger.
*Running directly at an official to complain about a call.
I sorta agree on this one. Again, we get caught up on the emotion but, at the same time, there is no need to run to the official to tell him what's up.
*Excessive inquiries about a call, even in a civilized tone.
I agree on this one, too. At some point, the referee doesn't wanna hear it, either. It's just one play and one call. Move on, will ya?
The most annoying one, actually, is when a player stays behind and lets his team go 4-on-5 while he makes a case about him being wronged (whaddup, Kobe). I think those types deserve a tech but referees should wait until the play is over... THEN call the technical. Nothing is worse when the opposing team scores two or three points THEN gets a technical called on them. That's one good way to teach them a lesson.
Still, I don't like it when officials "stick to the letter of the law." It should be a case-by-case basis when it comes to handing out these technicals. And I'm sure the NBA audience doesn't like that the players complain about calls... but do ya think that the NBA audience loves the officiating? With the referees getting a lot of these bang bang calls wrong, they would be reviled even more if they hand out these unsportsmanlike technical fouls like candy. ESPECIALLY if the star players suddenly get ejected.
And if the star players get tossed? The audience will deem this unwatchable because THEY'LL complain that the referees have taken over the game. Then not only will the NBA get complaints from the players... but they'll get plenty of complaints from the audience. It's bad enough that the league is asking players to be robots but the best robots might not even stay for the whole duration of the game? Sure, crack down a bit on the complaining but let players be a bit emotional and make it into a case-by-case basis. Don't ask the players to be robots. Players will be happy, officials will be a bit happier, and the audience will be happier overall. And like I said, I expect this "strict rule" to disappear before the Holiday season.
I'll be right back. I just got handed a technical foul.
Follow my NBA "commentary" on Twitter. I am @TheNoLookPass. Also, check out our FaceBook page.
We're always up late. How about buying us a coffee? Or an energy drink!?