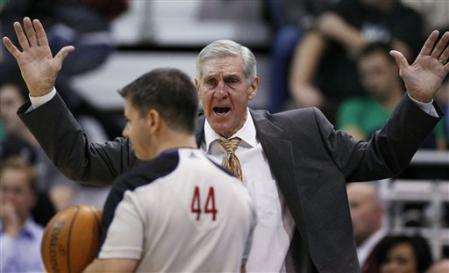 I've been trying to digest this whole thing about Jerry Sloan stepping down as coach of the Utah Jazz. Jerry Sloan had been coaching the Jazz for 22+ years and no matter how he exited, it was going to be difficult. We all thought Coach Sloan was going to coach and live forever. The Utah Jazz aren't the Utah Jazz without him; if anything, Jerry Sloan IS the Utah Jazz. (I was personally distraught that it was hard for me to really care for Lakers/Celtics even while that game was going on)
I don't have any access at all to the locker room. Who am I to say that Deron Williams caused this whole exit? When Coach Sloan said in his presser that he clashed with players all the time, how can anyone accuse him of lying or hiding something bigger? Coach Sloan was no-nonsense. The realistic part about this is that he was getting closer to the end more than ever. He is 68 years old and all the stress, travel, and sleepless nights had to catch up with him at some point.
I get it; Deron Williams called another play against the Chicago Bulls a couple of nights ago when Coach Sloan had wanted him to call something else. Is this the first time? Of course not. Maybe a younger Coach Sloan would've kept the fight going. But, at some point, a human being can only take so much. How many more arguments does he want at this age? He's clashed with Karl Malone in the past. And just like any other coach, he's clashed with other players that we didn't know about behind closed doors. So when he had that one moment where he pretty much thought that was it, I believe him. Perhaps the younger generation had passed him by. Perhaps he's way too old-school and stuck to his old ways. But when we watched the presser yesterday afternoon, it looked like a huge burden was lifted off his shoulders. Coach Sloan was ready to go home and who can blame him? He's been working non-stop for a very, very long time; being on the road and away from family takes a toll.
So really... while Coach Sloan IS a Utah Jazz institution... let's not wonder and lament on why he exited. Coach Sloan finally gets to go home and enjoy life without much worry. Maybe someday, he'll return. And if he doesn't, that's okay. So what if he never won an NBA championship? So what if he never won Coach of the Year? We all know what he's done for the Jazz and he got his guys to play hard every single time. And he has done more than enough for the game of basketball and he deserves to have this break more than anybody. It's like finally seeing your dad retire and tell war stories to all the kids that talk to him.
We'll miss him for sure but let's all be happy for Jerry Sloan.
Follow my NBA "commentary" on Twitter. I am @TheNoLookPass. Also, check out our FaceBook page.
We're always up late. How about buying us a coffee? Or an energy drink!?