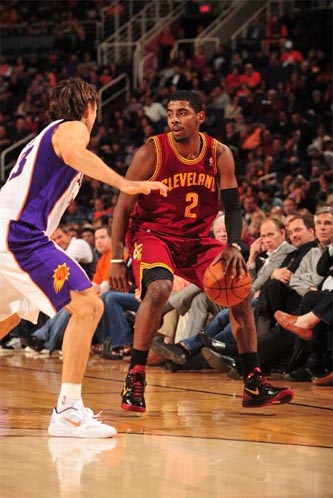 The Lakers have silently won eight of their last ten games. And Kobe Bryant is making some headlines by putting in some incredible scoring performances. He has three of the top five scoring games of the season so far, including the highest-scoring game of the year at 48 points.
But the Cavs have also been doing pretty decently as well at 5-5. Led by rookies Kyrie Irving and Tristan Thompson, the future may be bright in Cleveland after all they had gone through with the LeBron James debacle.
I talk to an old friend of mine, Glenn Moore, the man behind The Dugout Sports Show and also a freelancer for Cleveland.Com. So he knows the Cavaliers like the back of his hand. Follow him on Twitter at @GlennMooreCLE. You won't be disappointed.
His answers are in maroon. Let's get into this preview.
Cleveland is off to a decent start at 5-5, the same 10-game start that the Cavs had last season. Is this what you expected from them?
Considering their schedule in the first 10 games, yes, I expected a fast start, like last year. More importantly, I have liked the way some of the guys have gotten off to a fast start. Obviously, being on a long west-coast trip at the beginning of the season will take a toll, but I think they have played very well on the trip, all things considering. There has been some ups and downs, but overall, they are right around where I thought they would be.
Kyrie Irving, the 1st pick of last year's draft, leads all rookies in scoring at 15.6 points per game. Tristan Thompson, the 4th pick, is second in blocks among rookies (1.56 bpg). From what you've seen, do you see them blossoming into All-Stars?
I see Kyrie turning into an All-Star very soon. He has that instinct you want at your point guard position. If he can get over being hesitant on certain plays and develop more of his NBA game, he will for a multiple time All-Star. Now whether or not the team wins will be on the players around him.
I have liked what I've seen from Thompson. While I do not think he will be an All-Star player, he will be a huge factor in the Cavs success down the road. He has that garbage player mentality. From offensive rebounds and dunks and being strong around the basket, he plays 120%. If he can bulk up a little and develop a mid-range jumper, him and Kyrie would be a nice one-two punch for the Cavaliers for years to come.
Anderson Varejao seems to be in trade talks a lot. Is he a keeper for your team or do you think he needs to go?
When the Cavs signed Varejao to that huge contract, I thought they were crazy. Still think that. He is not a starting center. He is a spark plug off the bench. On a winning team, he would be a great fit to energize a bench squad. With that being said, the Cavs are lacking big bodies down-low, which has been exposed on this road-trip. I would trade Varejao if the price is right. I do not think you can get a first-round pick for him. I would only trade for a developed big man. If that won't happen, you keep him just because you need bodies. But in a perfect world, I wish we had a true starting center.
Any player on the roster that stands out to you besides the ones already mentioned? Jamison? Sessions?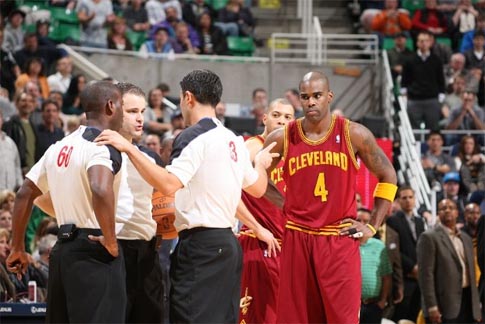 One player that I think will indeed be traded because of his play and age will be Sessions. If he can continue to back-up Kyrie and play well, a contending team will come calling and might overbid other teams that are in a playoff push. I do like Sessions a lot and would love to see a back-court of Kyrie and Sessions, but probably won't happen as Coach Scott likes lengthy, outside shooters at the 2.
Jamison has played well and it seems he is just showcasing for other teams. He wants to win or have the chance to win before his career is over, which is coming very quickly. But it is nice to have that veteran presence on this team.
If I had to bet, I would assume both these guys will be gone by year's end.
The new-look Lakers are next for your boys. Say hello to former Cavs coach Mike Brown. The Cavs' last trip to Staples Center was a disaster (and that's an understatement). What needs to be done for a Cleveland win?
Stop Kobe. Isn't that every team's game plan? Kobe can go off at anytime. Obviously, the big mis-match is down low. The Cavs have to stop easy baskets down low and don't let Kobe go off. Plus, this is a young team and for the rookies, playing at the Lakers place could be overwhelming. But I do not see last year repeating tonight. But thanks for reminding us. ;)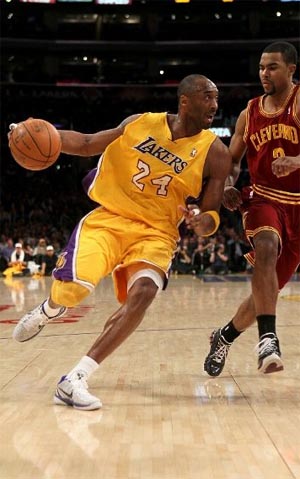 Prediction for this match-up?
If this game wasn't the back-end of two games in a row, I would go Cavs, but with the Cavs playing the Suns last night, they may not be ready for an upset. I'm going Lakers 102, Cavs 88.
Anything else you want to say at all?
Thanks for inviting me for the matchup and I'm always available for you guys. See ya in the NBA Finals this year.
I can't wait for the Cavs/Lakers final!
Thanks once again to Glenn for doing this Q&A. Once again, follow him on Twitter at @GlennMooreCLE and find his work at...
The Dugout Sports Show
Cleveland.Com
Enjoy the game tonight, ladies and fellas.
PHOTO CREDITS: 1) Barry Gossage/Getty Images. 2) Melissa Majchrzak/Getty Images. 3) Stephen Dunn/Getty Images.
Follow me on Twitter at @TheNoLookPass. And go like our FaceBook page. Thanks, people!
We're always up late. How about buying us a coffee? Or an energy drink!?