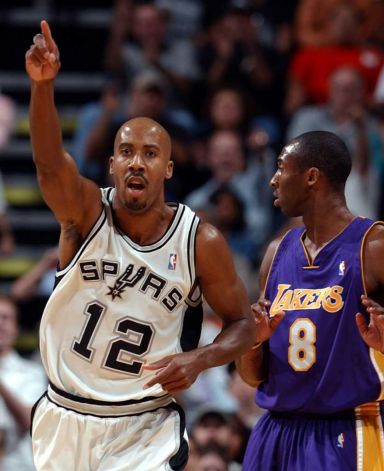 Bruce Bowen is getting his jersey retired by the San Antonio Spurs. I understand why.
Bruce Bowen is, per se, not a star so I can see why people would scratch their heads about why he would get his jersey retired. The Cal State Fullerton product never averaged more than 8.2 points in a season and he won't be confused for an offensive wiz (even though he did lead the league in three-point shooting in 2002-03). But he did all the dirty work on the defensive end and was named to the All-Defensive First Team five consecutive years. Bowen doesn't equal star power but he was integral to three of San Antonio's title runs. He would always guard the best perimeter player of the opposing team. Kobe Bryant had to work hard for his points against Bowen.
Each squad has a different standard when it comes to retiring jersey numbers. The Lakers and the Celtics hold those to a higher standard as only the greatest of the greats would have their jerseys retired there. Then there's the very questionable #23 up in the rafters for the Miami Heat when Michael Jordan never even played for them. I definitely understand why Bruce Bowen would get his number retired. The Spurs don't have the storied long histories like the Lakers and the Celtics but they did have some success pretty recently and guys like Avery Johnson and Bowen would get more credit because they were such huge parts on their title runs. If the Lakers were less successful then Byron Scott would easily have his number retired there (and while Derek Fisher has been important to five Laker titles... I don't expect his number to get retired). But it's subjective for each squad and I think it's perfectly okay for the Spurs to honor players who were there during their run at the mountaintop.
Yes, Bowen had to scratch, claw, and kick (some of the players, literally) on his way to the league. But he made it to the top along with Tim Duncan, Manu Ginobili, and Tony Parker. It's nice that the Spurs let guys who are unheralded but important members of the title squads gets some shine. And that's why the Spurs feel Bruce Bowen belongs up in the rafters of the AT&T Center.
Congrats, Bruce Bowen.
PHOTO CREDIT: Kin Man Hui/San Antonio Express-News.
Follow me on Twitter at @TheNoLookPass. And go like our FaceBook page. Go do it now!
We're always up late. How about buying us a coffee? Or an energy drink!?