We continue our playoff team previews here at The No-Look Pass by talking to some of the best writers/bloggers on the internet!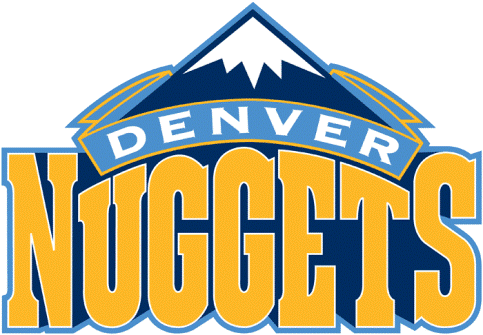 Seed: #6 (West)
Record: 38-28
Stat Leaders: Ty Lawson (16.4 PPG, 1.3 SPG), JaVale McGee (7.8 RPG, 2.2 BPG), Andre Miller (6.7 APG).
Opponent: #3 Los Angeles Lakers, 41-25
Record Against Them This Season: 1-3
Writer: Jon Maness (@Nuggetslove)
Web Site: Nugg Love
Denver was sort of up and down, too, this year. Injuries didn't help their cause as Danilo Gallinari has been hurt. In the end, George Karl's coaching and Denver's high-octane offense landed them in the sixth spot in the rugged Western Conference. Jon Maness of NuggLove.Com from the FanSided Network talks about those Nuggets with me.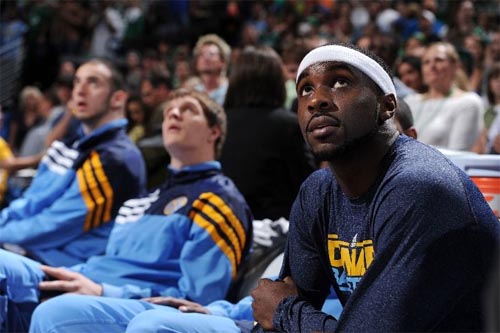 Are we overlooking Ty Lawson for Most Improved Player?
Yes, we definitely are. Not only statistically has Lawson gotten better (with career bests all over the board), but overall as a player. His jump shot has become far more consistent, which makes him a tough player to defend - especially with his speed and ability to attack the basket. But the biggest thing is he is being aggressive and isn't playing off of his teammates, like he's done in the past.
Tell me how impressed you are with Arron Afflalo.
Very impressed. When the Nuggets re-signed Afflalo, I was excited because very few players in the NBA work as hard as Afflalo does. I thought he'd be a nice No. 3/4 option on offense, but lately he has been Denver's most reliable offensive player. He went through his struggles earlier this season, where I thought he was trying too much. He worked through it and now is putting up very good numbers across the board. The most impressive thing about Afflalo and even Lawson is they both shoot around 50 percent from the field.
Do you have faith that Danilo Gallinari will bounce back in the playoffs after such an up and down year?
That's tough, because I still believe he is struggling with injuries (fractured thumb and a wrist injury). If completely healthy there is a chance he can bounce back, but the Lakers have also given him some fits this season. Gallo is a competitor, so I'm sure he will want to make up for his struggles earlier this season. If he does, Denver has a shot at upsetting the Lakers. If he doesn't it will more than likely be another early exit for the Nuggets.
What were your first impressions of Kenneth Faried? And your current impressions of him.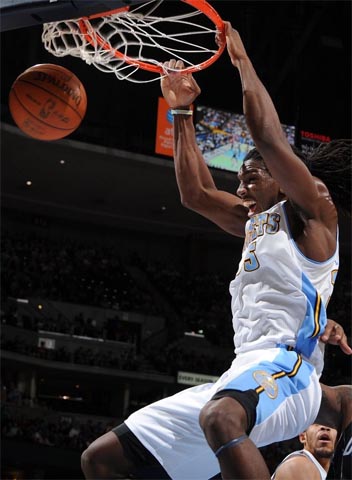 Like most NBA fans, I loved Faried's game and passion. However, I didn't expect him to be much more than an energy guy that would come off the bench in the NBA. I was wrong, Faried is much more than that. He has a great feel for the game and gets better as the game goes along. He hasn't been intimidated at all by the jump to the NBA and really doesn't make a lot of rookie mistakes. He still gets loss on the perimeter defensively, but offensively he knows his role and doesn't force shots.
Did the acquisition of JaVale McGee (surrendering Nene in the process) help the Nuggets this year?
I don't know if the addition of McGee helped the Nuggets this year, as much as it will help for the future. I also don't think it really hurt, especially with Nene battling injuries this year. McGee has played really well, he brings a strong defensive presence and size off the bench. But one reason why I think he has played better in Denver is because he is playing limited minutes. In Washington he was playing 30-plus minutes a game, but in Denver he plays around 20 to 25 minutes. The more condensed minutes allow McGee to play loose and within the flow of the game. Now if Denver has to count on McGee for 30-plus minutes a night the old JaVale may come back. It's the same thing George Karl did with J.R. Smith.
Denver draws the Lakers. You can't be too happy about this, right? In any case, give me keys for a Nuggets series win.
I have no issue with the Nuggets drawing the Lakers, Denver hasn't played well against any of the top four teams in the West and so it is kind of pick your poison. The Lakers are fun, because there is different energy in the Pepsi Center when Kobe Bryant is in the building and the fans heckling him.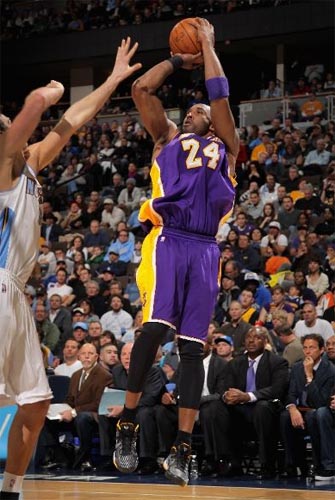 To beat the Lakers, most importantly the Nuggets need to get stops so they can get out on the fast break and run. They aren't going to win if they are constantly trying to score in the half-court or if they are constantly having to the ball out of the basket.
Denver also needs to take advantage of their deep bench. Corey Brewer, Al Harrington, Andre Miller and McGee are a very dangerous second unit. That group can score and has the length and defensive intensity to match the Lakers. In the April 13th loss to the Lakers, that group brought the Nuggets back and nearly got them the win.
Series prediction?
Anything can happen, but I say Lakers in six. This Nuggets squad gets up for big games, but they also haven't had much luck at the Staples Center. If anything it should be a fun series and great experience for this young team.
PHOTO CREDITS: 1, 2) Garrett Ellwood/Getty Images. 3) Doug Pensinger/Getty Images.
Follow Rey-Rey on Twitter: @TheNoLookPass. And "LIKE" us on FaceBook. Thank you!
We're always up late. How about buying us a coffee? Or an energy drink!?