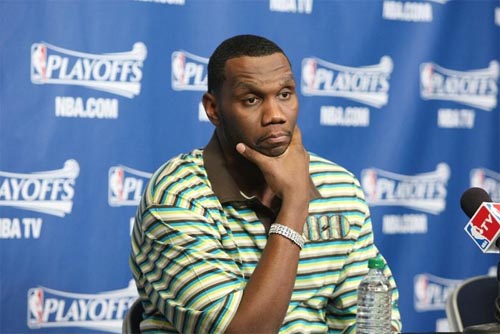 I'm all for talk. It's part of the game. It's part of hyping up the contest, teammates, and, of course, opponents. Interesting things were said over the past couple of days by players STILL playing in the postseason. Check this out.
AL JEFFERSON: "It's a blessing to be here, I'm happy to be in the playoffs, I'm happy to go through what I'm going through right now because that's what it's all about. I just think we're playing against a team that's at its peak. I don't see nobody beating them."
That was said before they got swept.
JERRY STACKHOUSE: "I am clearly planning for Atlanta to be in the Finals — if I put on my analyst hat, however, if we are looking at the personnel and everything that's going on during these playoffs, I have to take Miami to win it all. Miami is the favorite to come out of the East, and I'm not counting out the Lakers in the West the way Ramon Sessions and Kobe Bryant are playing."
Atlanta is still playing.
ANDREW BYNUM: "Close-out games are actually kind of easy. Teams tend to fold if you come out and play hard in the beginning, so we want to come out and establish an early lead and protect it."
So what's wrong here?
There has to be reasons on why they say this, right? Yes, I get that they answer honestly to questions posed. And I know Mr. Jefferson and Mr. Stackhouse said they're not going to give up BUT...
...they're supposed to be competitors. As players competing for the big prize, they can't have that attitude of "happy to be there." Or be "analysts" when they're players. Do the job. Go out there and win. Don't fold. Basically, Jefferson and Stackhouse told people, "Yeah, we're competing in the playoffs. But it doesn't matter because so-and-so is going to win, anyway." Maybe they don't really believe what they're saying but the fan base would feel insulted and their teammates would be insulted. If Kobe Bryant and I play one-on-one... in the heat of the competition, of course, I'm going to have the delusion that I'm going to win. I don't care if it's laughable; I'd rather compete than basically give up. Did Kobe say the series is over when they were down 0-3 last year against Dallas? No. He said they can still win that series. What was he supposed to say? It's over? No. Go out there and try to come back. It's like Jefferson and Stackhouse are saying, "Screw it." Are San Antonio and Miami better? Sure. But they're COMPETING. Don't give in.
So the Spurs swept the Jazz. Is Big Al happy? Of course not. But it became a self-fulfilling prophecy of some sort. In fact, he apologized for what he said. But basically, save those comments until the series is over. Atlanta's series isn't over yet against Boston but I'm sure his comments will be brought up again if they actually get to face the Heat.
Now with Bynum's comments? I'm not playing homer here but I'd rather hear what he said than what Jefferson and Stackhouse said. At least, he's going into the game with all of the confidence to win. Yeah, he ends up looking terrible when he doesn't back it up like he did last night... but I'd rather have that attitude than that seemingly-defeatist air the other two gave. I don't think Brandon Walsh from Beverly Hills 90210 or Zack Morris from Saved By The Bell doesn't go into every episode thinking he's not going to get the girl he encounters. They do. Nearly every episode. I'd rather have that attitude than whatever attitude David Silver's old friend, Scott (the dude that shot himself in 90210), or Screech Powers carried.
At the end of the day, it's bulletin board material for all their opponents and all the talk may not really rattle them much and affect the ultimate outcome. But while candor can be refreshing, there are just certain things that shouldn't be said in the heat of battle. Don't throw teammates and fans under the bus with that "we're not going to win... so-and-so is going to win" stuff; go out there and compete, thinking you're going to win it all. That's what they're in there for, right? As for what Bynum said, it's not something that I would recommend but, again, I'd rather hear confidence and bravado than being all emo like Linkin Park.
PHOTO CREDITS: Melissa Majchrzak/Getty Images.
Follow Rey-Rey on Twitter: @TheNoLookPass. And "LIKE" us on FaceBook. Thank you!
We're always up late. How about buying us a coffee? Or an energy drink!?