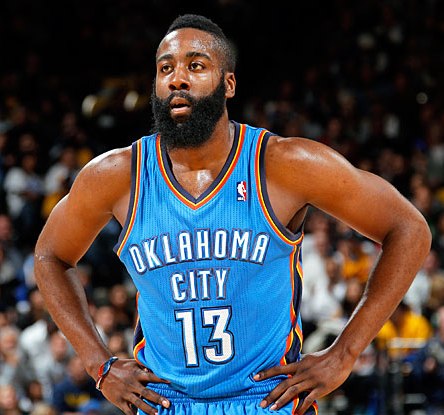 In a complete shocker, James Harden was traded to the Houston Rockets, according to Adrian Wojnarowski and Marc Stein.
The deal is as follows...
OKLAHOMA CITY GETS... Kevin Martin, Jeremy Lamb, and future draft picks (2 first-round and a second-rounder).
HOUSTON GETS... James Harden, Cole Aldrich, Daequan Cook, and Lazar Hayward.
Earlier today, talks between Harden and the Thunder stalled after Harden reportedly turned down a 4-year, $52 million extension (Woj said Thunder pushed to $54 million). The Thunder had a four-day window to extend Harden but general manager Sam Presti decided it was best to trade him.
Kevin Martin is in the last year of his contract so we'll see how he does under the Thunder as their new designated shooter. Jeremy Lamb is probably going to try to pick up the slack in terms of Harden's playmaking.
Harden is a restricted free agent next summer although the Rockets reportedly said that they intend to extend him before that happens. But what a sudden turnaround in events after the Thunder reached the Finals last June.
PHOTO CREDIT: Rocky Widner/Getty Images.
Rey-Rey is the founder and editor of The No-Look Pass. You can find his work here and at Forum Blue & Gold from the ESPN TrueHoop Network. You can also find his charm on Twitter at @TheNoLookPass.
We're always up late. How about buying us a coffee? Or an energy drink!?