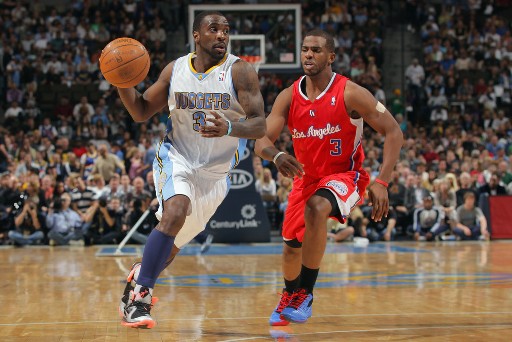 So according to our sources, Ty Lawson has signed a four-year, $48 million extension with Denver
Okay. Our sources was really Ty Lawson himself. Marc Spears from Yahoo reported the number of dollars.
There was quite a bit of talk for a while between the Nuggets and Lawson. Some feared it would go the way of James Harden, when he was shipped off to Houston when they couldn't agree to a deal. Thankfully for Denver, they were able to come to an agreement.
Ty Lawson was drafted by the Minnesota Timberwolves in 2009 before shipped immediately to Denver for a first-round pick that turned out to be... Luke Babbitt. Lawson averaged 16.4 points and 6.6 assists last season. He upped his point production in the Laker series in the last playoffs as he averaged 19.0 points and 6.0 assists against them.
PHOTO CREDITS: Doug Pensinger/Getty Images.
Rey-Rey (@TheNoLookPass) is the founder and editor of The No-Look Pass. You can also find his work at Forum Blue & Gold from the ESPN TrueHoop Network as well as LakersNation.Com.
We're always up late. How about buying us a coffee? Or an energy drink!?